He's Prince George's hero next door. In fact, Fireman Sam has been on the scene for millions of children – and their parents – for 30 years.
The firefighter from Pontypandy heard his fire bell chime for the first time on November 17, 1987 on Welsh TV channel S4C.
Sam Tân may have put on his coat and hat in less than seven seconds flat, but it took almost five years to get the idea from concept to broadcast.
And it seems you can't ignore him as Fireman Sam – Sam Tân in Welsh – is broadcast in 155 countries across the world, in 36 languages and has sold more than one million DVDs.
"It's the biggest ever brand to come out of Wales," said assistant producer Mike Young, now a Hollywood-based Emmy and Bafta award-winning animator.
"Everyone around the world has heard of Fireman Sam – and it'll outlast all of Wales' famous personalities."
It even has Royal assent.
When asked what's on the royal box, Prince William told BBC Radio 1 back in April: "Fireman Sam has taken an awful lot of interest."
And to mark its 30th anniversary, Sam's most famous fan is honoured as a Fireman Sam special 'The Prince in Pontypandy' will feature "a certain little Royal fan" alongside the original characters.
'Memorabilia to icon'
It was an interview with Young on the John Dunn show on BBC Radio 2, talking about his first cartoon project SuperTed, that led to London firefighter Dave Jones getting the ball rolling in the early 1980s.
The member of White Watch at Clerkenwell fire station already had a memorabilia business creating fire officer figurines and created a firefighter character to use for bedtime stories for his four children.
"When I heard Mike on the radio on my way home from work, I rang the BBC to get Mike's number and sold him the idea," recalled the former firefighter.
"I sent him a figurine casting that I had done. It was quite heavy so he couldn't throw it away. Mike had it on his desk so it stayed in his mind. A few weeks later he rang back. The rest is history."
When S4C wanted a successor to SuperTed in 1985, Fireman Sam was on the scene and went into production.
Sam had already been named by Dave's eldest daughter Paula, who was 10 at the time, at bedtime at their house in Langley, Berkshire – but Sam needed friends and a hometown.
"I don't know why she came up with Sam but it just sounded right," added Dave.
Fireman Sam was initially to be set in an "amorphous area of England, similar to Postman Pat's home village of Greendale" to appeal more to the BBC.
"But I proposed to set it all in Wales as the south Wales valleys had a warmth and authentic ambiance and feel," said Fireman Sam's original storyteller, illustrator and co-founder Rob Lee.
"A friend had just produced Family Ness about monsters in a lake in Scotland and that was very popular and fortunately the commissioners went for it.
"We could use the archetypical south Wales hills and valleys, a lovely old bridge and I was a big fan of Welsh cartoonist Gren – so we made the set a caricature of south Wales."
Rob, a "real Cardiff boy", had drawn Dennis The Menace and Whizzer and Chips comic strips before illustrating SuperTed books and "bringing Fireman Sam to life".
"I was always told a great cartoon character had to be distinctive in profile and in black and white," said Rob.
"That's what Disney did with Mickey Mouse – so I gave Sam a quiff to stand out."
Sam's hometown of Pontypandy is a composite of the Welsh Valley towns of Pontypridd, Tonypandy and Pontypool.
"You can't get more distinctive Welsh than that," added Rob. "Everyone seemed to like it and it stuck!"
Dennis The Menace meets Hilda Ogden
Characters: Shopkeeper Dilys Price and paperboy son 'naughty' Norman
The creators behind Fireman Sam wanted a serious fire safety message behind a "loveable cartoon" – but knew their "animated soap opera" required an element of monkey business.
"We couldn't mess with Sam's sense of morality and element of right or wrong," added Rob.
"But for the cartoon to be a success, we didn't want everyone saccharine, we need a bit of mischief."
Step forward 'naughty' Norman Price, the seven-year-old paperboy scamp – and a relatively unknown six-year-old from Cardiff.
"There was an element of reality to Norman as I had a six-year-old boy and I drew on Dafydd's character," said scriptwriter Nia Ceidiog.
"Dafydd was quite a boy; he was always on wheels whether it was skateboarding, rollerskating, jumping off home-made ramps on his bike and probably being a bit of a nuisance.
"Norman shared Dafydd's sense of adventure and played his mother up a treat. And his mother adored him so much, he'd get away with anything."
While the character of Norman was based on young Dafydd, his look was from a familiar comic strip legend.
"I always loved Dennis The Menace so Norman is a bit of a Dennis rip-off," added Rob.
"He was the obvious choice for a rascal."
His mother, shop owner Dilys Price – famed for shouting "Nooooooormaaaan Priiiiiice – is based on a soap opera legend.
"Dilys was a rip off of Hilda Ogden from Coronation Street," recalled Rob.
"In fact [TV presenter] Carol Vorderman's mum loved Dilys so much, I remember her coming up to me to talk about Dilys and said 'that's Hilda Ogden isn't it?'"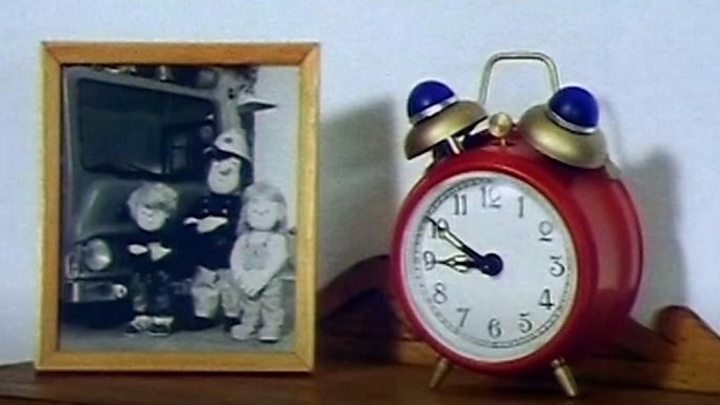 Elvis meets Dad's Army
Characters: Station officer Norris Steele, firefighter Elvis Cridlington and Trevor 'The Bus' Evans
Sam's firefighting colleagues are a mix of a clumsy Elvis Presley and an animated Captain Mainwaring, the Home Guard chief on BBC hit TV show Dad's Army.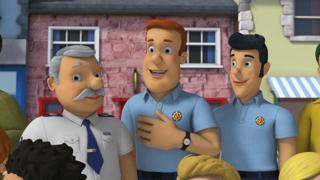 "There's definitely a Captain Mainwaring element to Station Officer Steele," said Rob.
"He thinks he's terribly important and he thinks everyone else thinks he's terribly important – but they don't.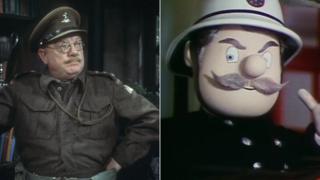 "Elvis Criddlington has the Elvis sideburns and is always telling jokes and messing around, they're both nice foils to Sam's authoritarian standing."
Trevor 'The Bus' Evans became an auxiliary firefighter to "make up the numbers" as creator Dave Jones said crews needed four firefighters in the cab on call-outs.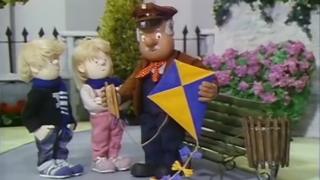 "You certainly know why the buses are late in Pontypandy!" joked Rob. "Because Trevor was up a ladder somewhere!"
'Gentle and loveable'
Characters: Italian cafe owner Bella Lasagne, twins Sarah and James
Italian cafe owner Bella Lasagne and twins Sarah and James, Sam's niece and nephew, make up the original nine-character cast.
"Sarah and James were the vehicle for the young viewers," recalled Rob.
Bella's "gentle and loveable" character was in contrast to Dilys matriarchal approach.
"Everybody in Wales, especially in the south Wales valleys, will know a character like Bella," said Nia.
"She was warm and kind and took a shine to Trevor. I don't think the children would have been aware of the little love triangle between Bella, Trevor and Dilys – and the tension between the two shop owners.
"That added a little bit of edge."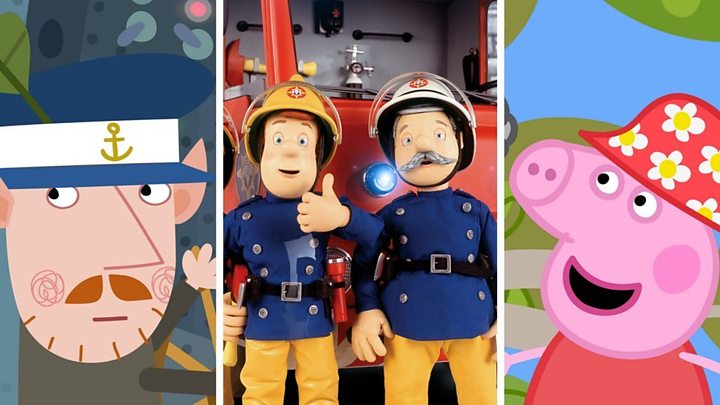 Each episode of the 'stop-frame animated' twice-BAFTA nominated show took a month to create – but since 2008, Fireman Sam has been made with CGI graphics in Mattel's HQ in Vancouver in Canada.
"It's a beautiful portrayal of Wales and Welsh people ," concluded Mike Young, now Wales' most famous animator.
"It's something the country should be so proud of."